In the following article we will show you step by step how to create your rolling liquidity planning with TRESIO.
We aim to provide an overview of the most important functions and options for liquidity planning with Tresio.
1. The basis: Set up your TRESIO user account
If you don't have one yet, you can set up a free TRESIO user account here .
As a new user, you will receive a free demo account and can later decide on a suitable subscription model. Details on the available subscriptions can be found here .
Open your company under Management -> Companies.
The number of companies you can set up will vary depending on the price plan you have chosen. You can always upgrade your package, if you need to set up more than one company.
TRESIO can display multiple companies in a consolidated view, once you have selected the main company in the company hierarchy.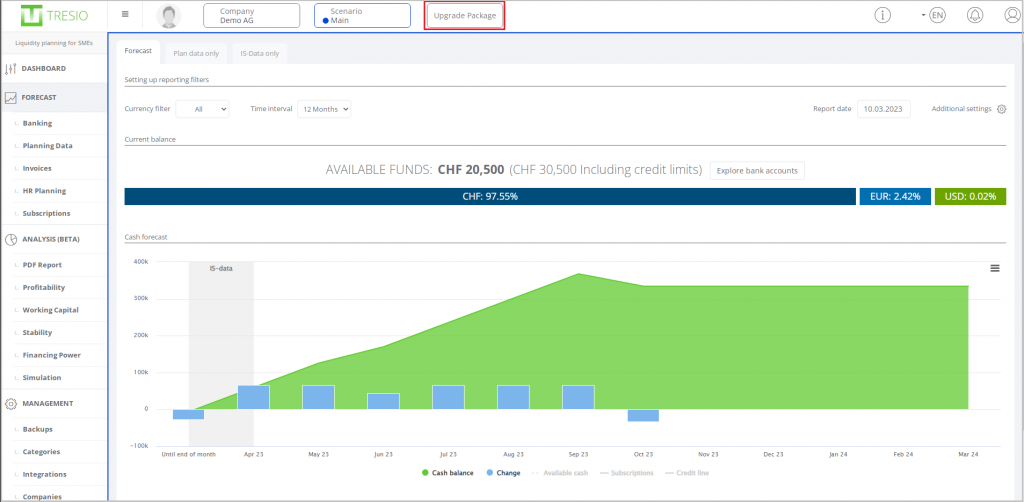 Tresio offers integrations with various accounting solutions, payment service providers and banks. These can be set up under 'Management'>'Integrations'.
A detailed description of how to configure the connection for Run my Accounts and Bexio can be found on our blog.
In addition to the native integrations listed here, we support a large number of other systems that are compatible with Tresio via our Excel interface or via a URL import. Get in touch with us for more details.
2. Starting point for liquidity planning: the current bank balance
The starting point for your liquidity planning is the current account balance in your company's bank accounts and any outstanding loans.
You enter the bank accounts in TRESIO under Banking.
If you use Run my Accounts, the bank accounts will be imported and updated automatically.
You can add PSD2-enabled bank accounts under Integrations via the Nordigen interface. More information on the bank interface can be found on our blog.
Swiss bank accounts can be added via the Ebics interface. Our team will be happy to help you with the set up process.
The current bank balance, 'Balance' is recorded and, if there is a current account credit limit, it is also taken into account as 'Credit line' for the available funds.
3. The main part of every liquidity plan: your planning data
Next, enter the planning data in TRESIO. The planning data is nothing more than your expected inflows and outflows: revenue from sales, expenses for wages and rent.
You can enter this directly under Forecast > Planning Data .
Important: unlike a budget, we are only interested in the actual movements on the account. So no pro-rata costs or sales on invoices. These inflows and outflows are only relevant to the planning data when they actually take place on the account.
A not-insignificant part of your costs and income should be regular payments. One of the main advantages of TRESIO is how regular payments are handled: once recorded, this data remains in the system and is taken into account each and every month. Of course, you can also adjust the data any time if necessary.
In Tresio you have various options for entering plan data:
A: One-time maturity
One-time inflows or outflows are recorded with the type 'One-off'. Examples would be new financing / capital rounds (as in the example below), but also larger investments.
B: Recurring payments
Recurring items such as wages, rent, and also the repayment of loans (as in the example below) can be recorded in Tresio as 'Recurring payment'.
This is probably the feature you'll need most – it's also great for annual outflows like insurance premiums that are paid once a year.
You can define in the drop-down whether the inflows or outflows are annual, quarterly, monthly, weekly or even daily. With the 'Custom' option, you can also set your very own frequency, such as every two months here (screenshot above).
C: Payment Plan
With the 'Payment shedule' function, you have the option of recording partial payments, perhaps for larger projects, or fluctuations in sales resulting from seasonal factors:
D: Linear and exponential growth
Do you have a growing business with increasing sales month after month?
You can map this growth using the corresponding function in Tresio:
with 'Linear growth' you assume that each month you make X amount more sales than the month before.
with 'Exponential growth' you define the monthly sales growth as a percentage.
Warning: do not underestimate the power of percentages! It makes sense to cap the linear growth on a certain date, as in the example shown, and then to create a new entry from the next month, with a slightly reduced growth function.
The growth features are particularly popular with startups on the three-year plan.
E: Dynamic planning
There may be items that you want to plan dynamically, since the effective amount depends on other income or expenses.
In Tresio, you therefore have the option of setting individual items both in relation to individual planning elements 'Percentage of other element' and in relation to individual categories 'Percentage of category'.
In the following example, the management's specification is that 1/3 of the turnover should always be reinvested directly in marketing:
This function is particularly popular, for example, for the dynamic calculation of social costs in connection with wages, automatic calculation of value added tax (= sales tax / VAT), or cost of goods.
The recording of dynamic expenses makes it much easier to simulate alternative scenarios.
F: Register HR costs
Monthly salary payments and payments to pension funds are undoubtedly among the most important and largest cost items. With the new HR module in Tresio, you always have an overview of the exact cash flows at the individual employee level. You can find more information about this here .
When entering the planning data, we recommend starting with the largest items and gradually getting down to the details. Consider: the more numerous and detailed data you collect, the more you have to maintain it afterwards to keep the planning up to date. It is therefore advisable to plan as much as possible based on rules (with repeated entries).
For an average company, 10-15 entries are usually sufficient to show the course of business.
You can also enter additional categories at any time under Management > Categories.
Pro-Tip: Use rule-based plan data as much as possible, i.e. regularly recurring income or expenses. This will make your any additional work in TRESIO much easier in future.
---
Benefit from our onboarding service!
As part of our onboarding service, we support you in setting up Tresio: We typically start with an analysis of the current situation, derive the liquidity plan from this and work with you to set up Tresio so that you can use the tool independently and efficiently in the future .
---
4. For the short-term liquidity view: your actual data
For short-term liquidity planning, we also add the invoice data from your accounts receivable and accounts payable.
With Tresio, you have the option of importing open invoices directly from the accounting system via an open item list. This is possible either via our growing number of direct connections (under Integrations), our no-code extension or via CSV / Excel upload.
Pro tip: By connecting to your accounting system, you put your liquidity planning on autopilot!
It is important that the first line defines which information the corresponding column contains.
Manual upload using drag & drop
Tresio now supports and recognizes the OP lists of all common accounting systems. The prerequisite is that the OP list can be exported in Excel or CSV format. If your list isn't recognized, we'd be happy to take a look.
Differentiation plan vs actual and overdue invoices
The ACTUAL data gives you a short-term view of 30-90 days, depending on the billing cycle. Under Forecast > Additional Settings you can change the planning horizon during which only actual data is to be taken into account.
You can also set how overdue invoices should be handled:
Overdue invoices are broken down over the number of days you set, starting with day 1 of overdue.
If, for example, a customer invoice of CHF 20,000 is overdue and you have set the number of days to 20, a receipt from this overdue invoice of CHF 1,000 will be taken into account every day from day 1 of overdue.
This overdue cash receipt is taken into account until the invoice has been paid or cleared.
In order to no longer take account of invoices that are at risk, you can set the number of days overdue that should no longer be taken into account at all.
If you do not want to include overdue invoices at all, set the value to 1.
You can find out more about the time component in planning and why this can be very important in this article.
5. Understand the distinction between plan data and actual data in TRESIO
The forecast view combines the actual data, i.e. the invoices that have already been issued and received, and the plan data.
The actual data gives us a detailed view for the next 30-60 days – apart from fixed amounts such as rent and wages (which do not trigger an invoice), no planning data is taken into account in this period.
The delimitation of the plan data in the forecast view (number of days during which only ACTUAL data is taken into account) can be made under Forecast > Additional Setting.
The distinction between plan data and actual data can be a little confusing at first, so here are two illustrative examples:
Example 1:
Forecast delimitation: planning date April 1, 2021, 25,000 VAT planned for May 31, 2021, actual data view = 30 days
The planning data will be taken into account up to April 30th.
If the effective invoice for CHF 20,000 arrives on April 15th, NOTHING happens in Tresio under the forecast view, since you have made the accrual accordingly in the settings.
On May 1, Tresio then changes over and no longer takes into account the planning data for 25,000, but the effective invoice for 20,000.
This ensures that the same expenses / income are not taken into account twice
Example 2:
Forecast delimitation: planning date April 1, 2021, 25,000 VAT planned for May 31, 2021, actual data view = 30 days
You will not receive the effective invoice for CHF 20,000 until May 15 due to a delay at the FTA.
In this case, the planning data is no longer taken into account from May 1st (due date -30 days).
If we don't change our planning data (= we push the expected payment date back) between May 1st and May 15th we have a view that is CHF 20,000 too positive, since VAT is not taken into account either via the planning data or the actual data .
it is therefore important that we always briefly check the plausibility of our planning.
Switching between the plan data view and the forecast view is very helpful in order to quickly identify any differences.
6. Et voilà: Your first rolling liquidity planning – the basis for data-driven decisions !