With the new Tresio multibanking interface, we are getting a little closer to our vision of a comprehensive SME financial dashboard that brings together all relevant financial data in one place and thus gives you, as an entrepreneur, a simplified overview 
!
Which banks can be connected to Tresio?
Tresio offers two ways to connect bank accounts:
Since April 2022 we have enabled the connection of PSD2-capable bank accounts via the interface of our technology partner, Nordigen. In addition, more than 2,300 banks from 32 European countries can be connected to Tresio, including popular neobanks and payment service providers, such as: Revolut, Wise, PayPal and Stripe.
Here you can find the complete list of all banks that are compatible with Tresio via the PSD2 interface.
Swiss banks are NOT PSD2 capable and therefore not part of this interface.
For Swiss banks, we offer a separate interface that runs on the Ebics standard .
How can I activate the PSD2 banking interface in Tresio?
To activate the PSD2 interface (for EU banks, excluding Switzerland), you need an active Tresio account.
Open a free demo account here.
Under the menu item 'Management' > 'Integrations' you can activate various interfaces to third-party systems:​
Click on the Nordigen interface.
Then select the domicile country of your bank in the drop-down menu that opens, and then the bank:
In Germany, shown here in the example, 1,237 banks can be connected as of today. Use the text search to quickly find the desired institute.
The full list of all supported banks can be found here .
Tip for the Swiss users: Simply select any country of domicile to connect the neobanks Revolut or Wise, as well as the payment processors PayPal or Stripe.
The next steps of the process depend on the respective bank. As a rule, you have to log into your bank's app or the online banking portal and agree to the connection to Tresio via Nordigen.
The PSD2 standard stipulates that the connection must be confirmed after a certain period of time. Depending on the bank, this period varies between 30 and 90 days.
As soon as the connection is established, you can choose in Tresio whether you want to activate the automatic update (in this case we will fetch the current bank details for you automatically once a day), and whether you only want to reconcile the balance or also transmit the transactions to Tresio.
Click on Save to permanently set up the connection.
You can remove the connection and delete the bank account at any time.
How can I connect my Swiss bank account to Tresio?
PSD2 is a European standard and obliges banks in the EEA region to give their customers easy access to their bank data via third-party applications such as Tresio. Switzerland is exempt from this rule .
Swiss banks can be connected to Tresio via EBICS. EBICS stands for Electronic Banking Internet Communication Standard . This standard enables modern, fast and secure data exchange between banks and financial tools such as Tresio.
Please report your interest for EBICS bank connection directly in the Tresio application or using this form . Our sales team will then get in touch with you.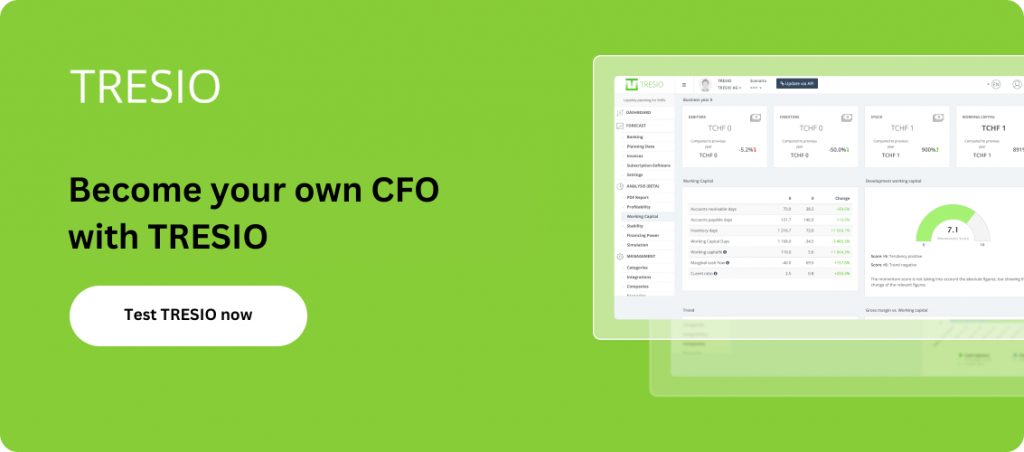 What bank details do I see in Tresio?
The first step, that we have implemented, is automatic balance reconciliation. This means, that the bank accounts are always synchronized and up to date, and you as an entrepreneur can see at a glance how much money is currently available in which bank account and in which currency.
As before, you can still enter manual bank accounts and adjust the balances under 'Forecast' > ' Banking'.
Run my accounts (RMA) customers do not need to do anything as the account data is still imported directly via the RMA interface.
For Nordigen and Ebics, If, when connecting the account, you selected that you also want to transfer transaction data to Tresio, you will see this data under 'Transactions'.
The next step will be to classify these bank transactions. On the one hand, this enables us to provide you with valuable statistics.
In the short term, this paves the way for the much-anticipated budget plan/actual comparison .
TIP: In order to be able to use the view historic data, when the corresponding functions go live, we recommend that you connect your bank accounts to Tresio at the earliest opportunity.
How about security?
All data at Tresio, including bank account information, is stored and processed exclusively on Swiss servers.
The protection of your data is very important to us. We work with Serverbase, a Swiss provider who also works with many trustees and attaches great importance to data security.
In the Ebics area, we work together with well-known providers with many years of experience in the field of banking interfaces.
An important note from a security perspective: The initiation of payments via Tresio is explicitly not planned for the time being.
The current solution only allows you read access, and the data itself will not be changed in your system.